News Article
News Release:
Customers can now load up on electricity and their supplies at the same time!
S SAN FRANCISCO, CA - February 1, 2011 - Central Distribution System (CDS Advantage) is pleased to announce the installation and activation of a ChargePoint Charging Station at its South San Francisco headquarters.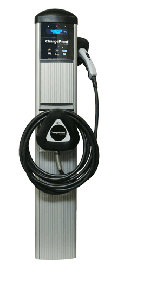 The Central Distribution System ChargePoint Network Charging Station delivers controlled power to effectively and efficiently charge almost any electric vehicle. The charging station is easy to use and features practical ergonomics and sturdy construction. It is embedded with an on-board computer that is network-enabled, capable of reporting energy usage and communicating with the ChargePoint Network. Additional features include:
Open access for all drivers using any standards based RFID card,
SMS or an Email notifications to the driver for charging complete or interruptions in charging
Integration with the utility Smart Grid for demand side management, and,
Receipt of software upgrades to accommodate advancements in future EV charging technologies.

"Clearly we are investing in the innovation and infrastructure that will help secure our sustainable future" said Central Distribution System Customer Service Team Leader, Mardi Inaudi. "The addition of this new technology is a natural fit in the growth of our offering of sustainable products and services to visiting customers, neighbors and team members."

About Central Distribution System (CDS Advantage)
Established in 1982, Central Distribution System (also known as "CDS Advantage") is Northern and Central California's premier wholesale source of innovative cleaning solutions, maintenance products, paper supplies, personal protection equipment and disposable food service items – exclusively for resale by established professional distributors. Products distributed by CDS Advantage to its distribution customers include almost anything used in a business environment. Leading manufacturers represented include companies like Claire Aerosols, Colgate-Palmolive, Dial Corporation, Ettore, Impact Plastics, Kimberly-Clark Corporation, Nilodor Incorporated, Procter & Gamble, RDA Advantage, Rochester-Midland, Rubbermaid and Stoko.

For more information, please contact:

Ms. Mardi Inaudi
Central Distribution System
Telephone +1.650.873-0160 x 228
www.cdsadvantage.com
A Few Of The Product Lines We Offer
Click on arrows above to browse product lines.