News Article
News Release:
CDS locks down security updates to its Website (www.cdsadvantage.com) and e-commerce portal!
S SAN FRANCISCO, CA - February 27, 2017 - Central Distribution System (CDS Advantage), a leading wholesale distribution company providing a broad range of products and services for distributors of products to the commercial cleaning, foodservice, industrial, medical and safety marketplace, updated security measures on its Website (www.cdsadvantage.com) and e-commerce portal containing thousands of products exclusively for its commercial distribution customers.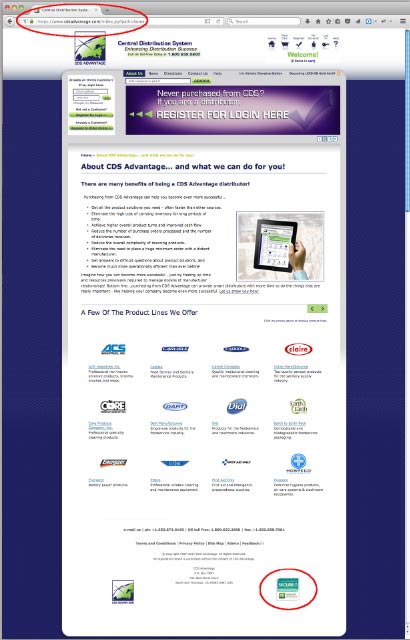 We recommend customers be extremely careful when seeking out great deals from unfamiliar Web sites. While shopping online is normally safe, it makes sense to be wary of what might appear to be an unrealistic bargain. Bargains that look too good to be true, probably are. Before you make a major purchase, the first step is to find out if the company has legitimate contact information. Is there an alternative way to reach a company representative â?? like a physical street address and a phone number?
What's more, when making online purchases look for symbols that appear to let you know the site is secure. Among the common markers are the "padlock" symbol or the "https" on a Web address. Issued by Symantec and other companies, there are symbols let you know that that the Web site has a SSL certificate, and the information you're entering is encrypted. To provide customers with the utmost confidence when transacting on the website www.cdsadvantage.com, Central Distribution System has ensured that the website features a SSL Certificate that comes along with 'https' in the Web site address and a closed padlock symbol in the browser window. In addition to this, the website features a $1 million guaranteed extended secure website validation from Network Solutions.

About Central Distribution System (CDS Advantage)
Established in 1982, Central Distribution System (also known as "CDS Advantage") is Northern and Central California's premier wholesale source of innovative cleaning solutions, maintenance products, paper supplies, personal protection equipment and disposable food service items - exclusively for resale by established professional distributors. Products distributed by CDS Advantage to its distribution customers include almost anything used in a business environment. Leading manufacturers represented include companies like Claire Aerosols, Colgate-Palmolive, Dial Corporation, EnviroSolutions, Ettore, Impact Plastics, Kimberly-Clark Corporation, Nilodor Incorporated, Procter & Gamble (P&G), Rochester-Midland, Rubbermaid and Stoko.

For additional information concerning our products (including safety supplies), please view our website at www.cdsadvantage.com.

Ms. Christina Garcia
Central Distribution System
Telephone +1.650.873-0160 x 237
www.cdsadvantage.com
A Few Of The Product Lines We Offer
Click on arrows above to browse product lines.