News Article
News Release:
CDS Advantage Launches New Website!
New e-commerce Website provides fast access to helpful information for distributors.
S SAN FRANCISCO, CA - November 12, 2012 - Central Distribution System (CDS Advantage), a leading wholesale distribution company providing a broad range of products and services for distributors of products to the commercial cleaning, foodservice, industrial, medical and safety marketplace, today announced the introduction of its new Website (www.cdsadvantage.com) and e-commerce portal containing thousands of products exclusively for its commercial distribution customers.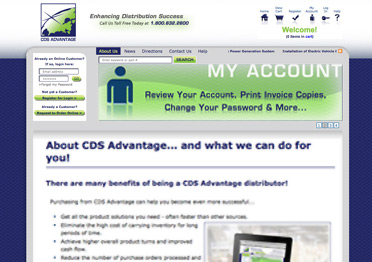 "The new e-commerce Website for CDS Advantage was created to satisfy a rapidly growing market demand from our distribution customers to have access to an advanced method of ordering supplies urgently needed by their customers" said Central Distribution System Customer Service Team Leader, Mardi Inaudi. "We anticipate our commercial distribution customers will be familiar with the way our new website works. It will bring them in line with the ease and utility that consumers find helpful when ordering books, kitchen cookware and bedding from online B2C stores – the difference being that this website is exclusively for distributors and their unique needs." She continued, "Our customers are now be able to access important product details, product photos, MSD sheets, perform information searches, create product groups for quick restocking, review open quotations and orders, place an order, and manage almost every aspect of their Central Distribution System account online."

The new Website will continue to evolve to meet the needs of our customers. Central Distribution System customers will appreciate the accessibility, convenience and time saving nature of direct on-line ordering continually supported by its experienced team of customer service representatives. Additional capabilities are already underway and will be available early-2013.

About Central Distribution System (CDS Advantage)
Established in 1982, Central Distribution System (also known as "CDS Advantage") is Northern and Central California's premier wholesale source of innovative cleaning solutions, maintenance products, paper supplies, personal protection equipment and disposable food service items – exclusively for resale by established professional distributors. Products distributed by CDS Advantage to its distribution customers include almost anything used in a business environment. Leading manufacturers represented include companies like Claire Aerosols, Colgate-Palmolive, Dial Corporation, Ettore, Impact Plastics, Kimberly-Clark Corporation, Nilodor Incorporated, Procter & Gamble, RDA Advantage, Rochester-Midland, Rubbermaid and Stoko.

For more information, please contact:

Ms. Mardi Inaudi
Central Distribution System
Telephone +1.650.873-0160 x 228
www.cdsadvantage.com
A Few Of The Product Lines We Offer
Click on arrows above to browse product lines.