News Article
News Release:
OpenSSL Heartbleed: We've Got Your Back!
Central Distribution System unveils security updates to its Website (www.cdsadvantage.com) and e-commerce portal!.
S SAN FRANCISCO, CA - April 15, 2014 - Central Distribution System (CDS Advantage), a leading wholesale distribution company providing a broad range of products and services for distributors of products to the commercial cleaning, foodservice, industrial, medical and safety marketplace, today unveiled security updates to its Website (www.cdsadvantage.com) and e-commerce portal containing thousands of products exclusively for its commercial distribution customers.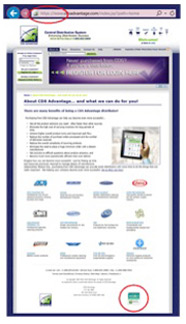 Last week, Central Distribution System learned about a potential security exploit called 'Heartbleed' affecting websites that use an SSL to secure customer information. Heartbleed is critical. It affected nearly two-thirds of the Internet and many large Internet companies have been working long hours to update their services to keep customers and visitors safe. Central Distribution System was no exception.

"Since learning of a potential vulnerability, members of our technology team reviewed and updated any Central Distribution System services that may have been unknowingly exposed to the threat. This includes websites and servers we use to run our business" stated Central Distribution System's Customer Service Manager, Lucy Alvarez. She continued, "Online security is indispensable to conducting business online. We want to assure all our customers that online security is - and always has been - one of our highest priorities."

To provide customers with the utmost confidence when transacting on the website www.cdsadvantage.com, Central Distribution System has ensured that the website features a SSL Certificate that comes along with 'https' in the Web site address and a closed padlock symbol in the browser window. In addition to this, the website features a $1 million guaranteed extended secure website validation from Network Solutions.

About Central Distribution System (CDS Advantage)
Established in 1982, Central Distribution System (also known as "CDS Advantage") is Northern and Central California's premier wholesale source of innovative cleaning solutions, maintenance products, paper supplies, personal protection equipment and disposable food service items - exclusively for resale by established professional distributors. Products distributed by CDS Advantage to its distribution customers include almost anything used in a business environment. Leading manufacturers represented include companies like Claire Aerosols, Colgate-Palmolive, Dial Corporation, Ettore, Impact Plastics, Kimberly-Clark Corporation, Nilodor Incorporated, Procter & Gamble, Rochester-Midland, Rubbermaid and Stoko.
For more information concerning the vulnerability Heartbleed poses to other websites, you will find more information on The New York Times website and on the Heartbleed website.


For more information, please contact:
Ms. Christina Garcia
Central Distribution System
Telephone +1.650.873-0160 x 237
www.cdsadvantage.com
A Few Of The Product Lines We Offer
Click on arrows above to browse product lines.